25 years preserving the past for the future!
June 17, 2021

Posted by:

Mircla Nava

Category:

Uncategorized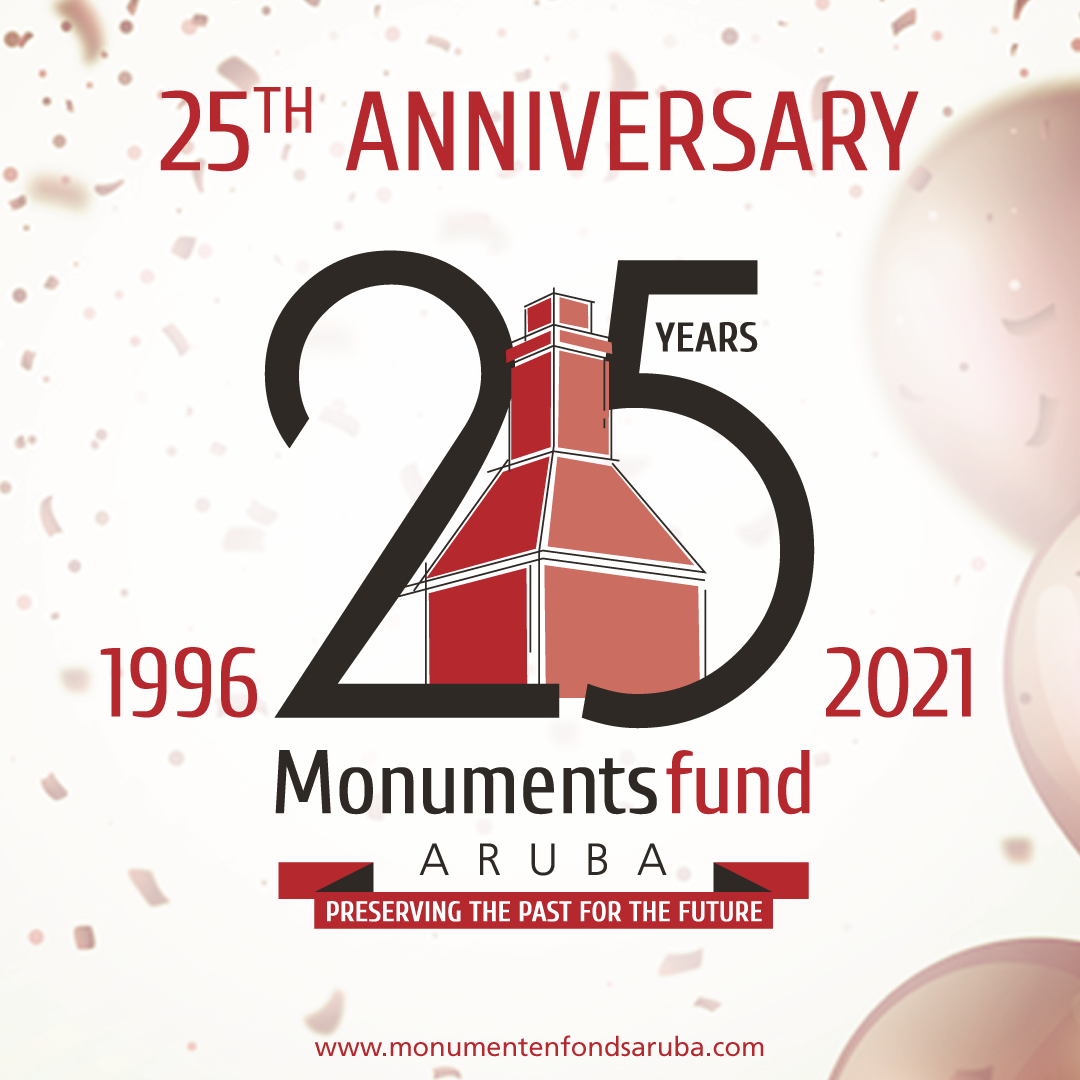 These last nine years I have had the honor of working at Monuments Fund Aruba. Today we will look back at a much longer period:25 years ago the foundation was founded after the Monuments Bureau and Monuments council.  I would like to congratulate them also on their twenty-five years of existence. Together we are the 'monuments care' in Aruba.
Our successes are not only our work. We are a network organization; our team is always cooperating with different partners. The government, cultural foundations, contractors, tourism sector, banks, school, Architects, here and on the other islands in the Caribbean and the Netherlands etc. etc.
We wanted to celebrate together with them all, but because of the crises we decided to celebrate in a more simple way.
Achievements
In the last 25 years we have become owner of 13 monumental buildings and some objects. 12 monuments have been restored and we are currently working on the plans for the conservation of the watertanks in Rancho and Cas Tan Tin. The restoration of Botica Aruba is almost done. For each of them we have organizations that use these buildings, and we would like to thank them today because with the rent they help us make more restorations possible.
To own that many monuments brings a responsibility with it. Monuments Fund invests in the maintenance of these monuments to keep them in good condition for our users to work, live, and receive their visitors in our monuments.
There is more than just the technical part. Our monuments have a great value because they represent a part of our history, they have our history in their limestones, wood, glass, and concrete. The intangible heritage connects them to our neighborhoods, community, and our traditions. We are always working on awareness and education to teach our residents and visitors about our culture. This year every 25th of the month we are posting a video on social media that highlights different aspects of our achievements.
Stability and financial independence
In the first half of our existence we were subsidized by the government of Aruba which helped us grow as a foundation. The last twelve years Monuments Fund has not received any subsidy. We have always followed the governments monuments management, but we have become a independent and financially stable foundation. This has helped us get funding for our projects.
Support
We could not have been this far without the support of everyone.  Uncountable work hours from our colleagues and ex colleagues, dedication  and perseverance from our actual and former board members, help from our volunteers, interns and cooperation of different companies, other foundations, the government, the community and visitors from Aruba. To everyone that has contributed in any way to the preservation of our monuments, we thank you from the bottom of our hearts. And a special thanks to the press for giving us the space to inform and educate the community.
Plans for the future
We are very proud of these first twenty-five years and we are ready for the years to come. We are currently working on different feasibility studies for different monuments. We hope that this will result on more monuments being restored and reused. We are also working on a revolving fund to help more people and organizations with their projects. We hope the government of Aruba will soon start protecting private monuments as a stimulus for private owners to preserve the history of their family for Aruba. As part of our celebration we created a guide with information for those interested in buying a historic house. Everyone can download Your own historic home in 10 steps for free on our website.
We are currently working on a project to celebrate our anniversary with the community of Aruba, be pending in the next coming months for more information on this project that will take place in October 2021.
For now, we will keep building on our experience and achievements of these 25 years and keep preserving our past for the future!
Anne Witsenburg
director