Monumentsfund Aruba paid a working visit to the Netherlands.
May 15, 2017

Posted by:

Mircla Nava

Category:

Monuments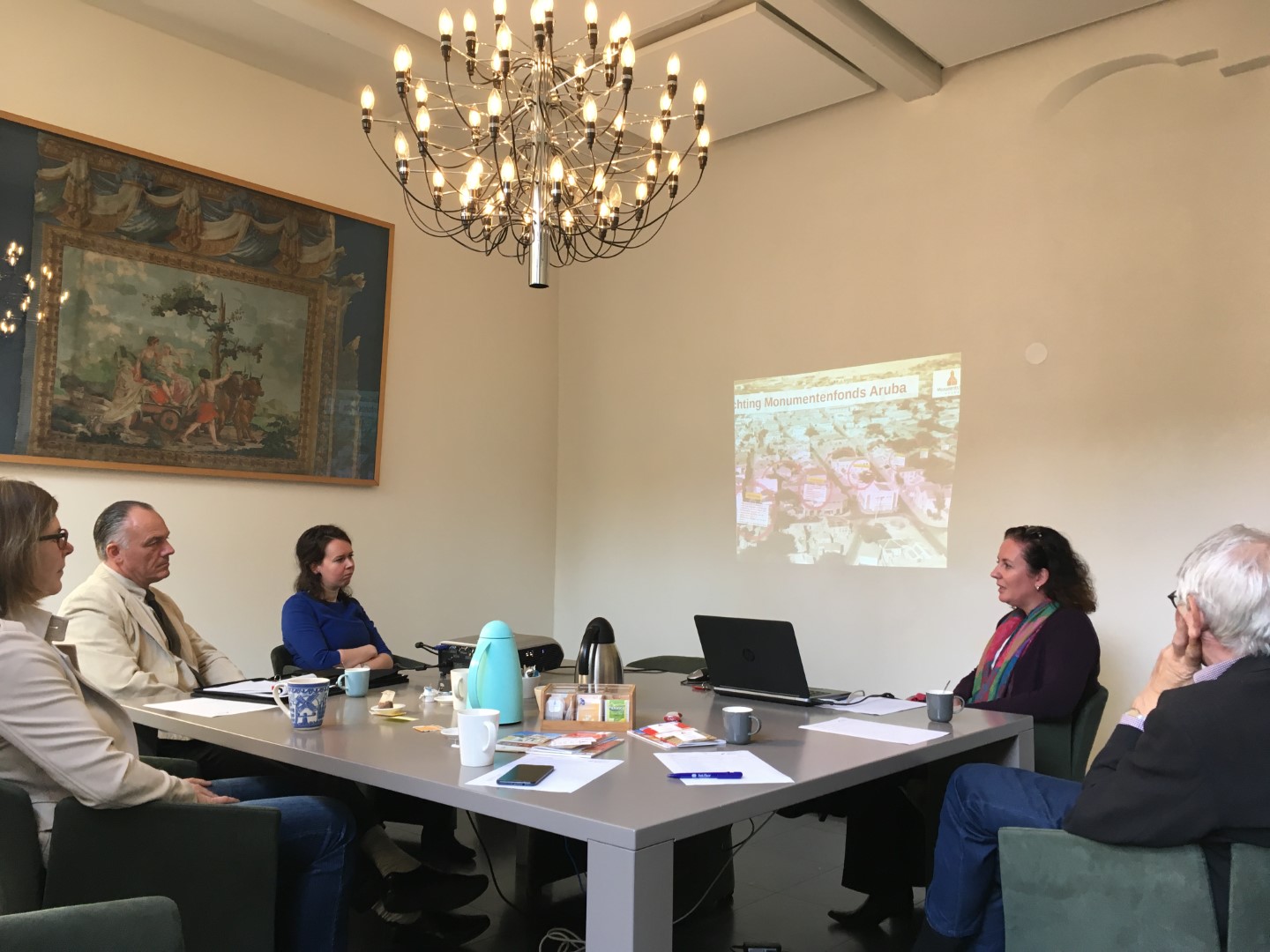 In early April, the director, Anne Witsenburg, and project leader, Joost Saris, of Monumentsfund Aruba (SMFA) paid a work visit to the Netherlands. The directors of Curaçao Monumentsfund and the Monuments Foundation Curaçao were also in the Netherlands and have worked with SMFA to deepen existing contacts and to make new contacts.
The visit began at SUS Ateliers Rotterdam, where the director held a conversation with interns, graduates and possible potential new graduates. A Motivational Tea was also held with Caribbean students from the University of Rotterdam and TU Delft, in the presence of the minister plenipotenciary , Juan-David Irausquin.
In addition, SMFA has also visited Arubahuis and ATA Europe where agreements have been made on helping to promote SMFA's events by posting them on the European websites and Facebook pages. And when ATA has groups of journalists, travel guides etc. SMFA could help provide guided tours and information about monuments and developments on this area.
SMFA has also made acquaintance with the new director of the National Restoration Fund of the Netherlands (NRF). Where they discussed about existing agreements, new projects and developments of SMFA and opportunities for further cooperation. In the past, Monumentensfund has been able to finance projects such as the Watertowers, Lighthouse and Nicolaas Store thanks to low-interest loans from NRF.
The director and project leader also visited the Heritage Event in Den Bosch, where information and ideas have been exchanged with various companies and organizations in the field of cultural heritage. Here they met the editor of the magazine Herenhuis , who had another editor visiting Aruba at that time. In August, there will be an article in the magazine about Nicolaas Store and California Lighthouse.
Together with colleagues from Curacao, they visited the National Cultural Heritage Office in Amersfoort, where the topic was raised about the research of the rising moisture and salt in Aruba and Curaçao and possible solutions for this problem.
Other interesting meetings were with National Monument Organization and also the Stichting Utrechtse Monumenten. They focus on social housing in monuments among others. Last they also met representatives of Hermon BV. This organization, like SMFA, also works without subsidies and focuses on governmental monuments in the Netherlands.
SMFA had an intensive work visit with positive results for future projects and once again the importance of cooperation with partners in the Caribbean and the Netherlands was the highlight once again. We will keep working together to preserve the past for the future.